the zinc alloy body and leather element for the better handing feeling and comfortable to fit in the palm of your hand, the triggering style firing button for the easy operation. the Smok Mag Pod Devices built-in 1300mAh battery and max output power 40W, you can press the Up and Down buttons to adjust the output power freely, the front panel adopts the 1.3 inch TFT colorful display, will show you the vaping data clearly, you will know the resistance value, working voltage, current, puffs, output power and battery life only by one glance. can charge the built-in battery through the micro USB port to power bank, wall adapter, multiple protections to ensure the vaping safe and reliable. the Smok Replacement Pods can hold 3ml e-juice, with he visible oil level window, you will clearly know the e-juice level. the Smok Mag Pod with removable 510 drip tip, you can use other 510 drip tip to replace the original one. there are two airflow channels on both sides designed to help bring more air and produce the huge vapor. the Mag Pod with a convenient top refill system with a childproof push cap to facilitate e-liquid refilling and prevent oil leaking. the RPM Mesh Coil 0.4ohm and RPM DC MTL Coil 0.8ohm included, the Smok Mesh Coils will heat the e-juice fastly and evenly, will bring you the best flavor. the RPM DC MTL Coils with dual coils for MTL vaping and 2mm inner hole for excellent wicking, large area and faster heating, will bring you the huge vapor and quality flavor. the Cheap Smok Pod Kit also compatible with the other RPM Coils, you can choose the various Coils to meet the different vaping demands.
Features:
Material: Zinc Alloy + Leather
Colors: Matte Red, Matte Gold, Matte Gun Metal, Matte Blue, Matte Black
Size: 90.8*46.5*19.4mm
Built-in 1300mAh Battery
Output Power Range: 1-40W
Resistance Range: 0.3-2.5ohm
1.3 inch TFT Colorful Display
Standby Current: <140uA
Input Voltage: 3.3-4.2V
Output Voltage: 0.5-4.0V
Charging Voltage: DC5V/0.95A Max
Micro USB Port For Charging
Intelligently Pod Detection
Puff Monitoring System
8 Seconds Cut-Off
Short Circuit Protection
Over-Heating Protection
Low-Battery Warning
——————————————–
Pod Capacity: 3ml
Two Optimized Airflow Channels
Secure Lock Button For Pod Fixation
Removable 510 Drip Tip
Top E-Juice Refill System With Childproof Push Cap
Visible Oil Level Window
Coils:
RPM Mesh Coil, 0.4ohm, Best: 25W, For Best Flavor
RPM DC MTL Coil, 0.8ohm, Best: 16W, Dual Coils For MTL Vaping
RPM Quartz Coil, 1.2ohm, Best: 12W, For Purer Flavor
RPM SC Coil, 1.0ohm, Best: 14W, For Intense Flavor And Dense Flavor
RPM Triple Coil, 0.6ohm, Best: 25W, For Excellent Flavor And Vapor Production
RPM MTL Mesh Coil, 0.3ohm, Best: 10-15W, For Massive Vapor And Excellent Flavor
RPM RBA Coil, For DIY Fun, Bring You Massive Vapor And Purer Flavor
Includes:
1*Smok Mag Pod Device
1*Empty RPM Pod
1*RPM Mesh Coil 0.4ohm
1*RPM DC MTL Coil 0.8ohm
1*USB Cable
1*User Manual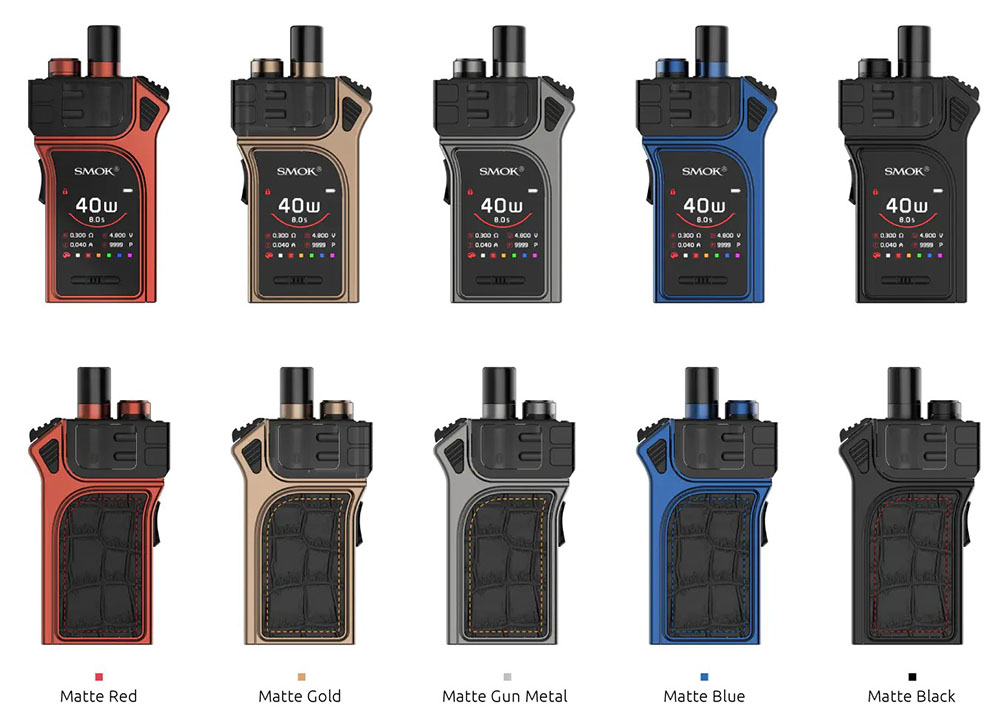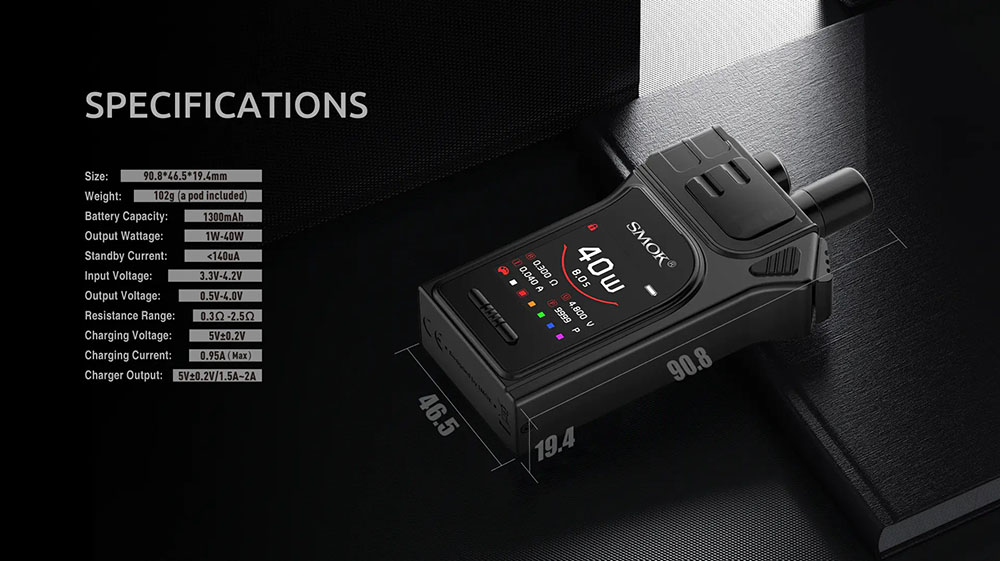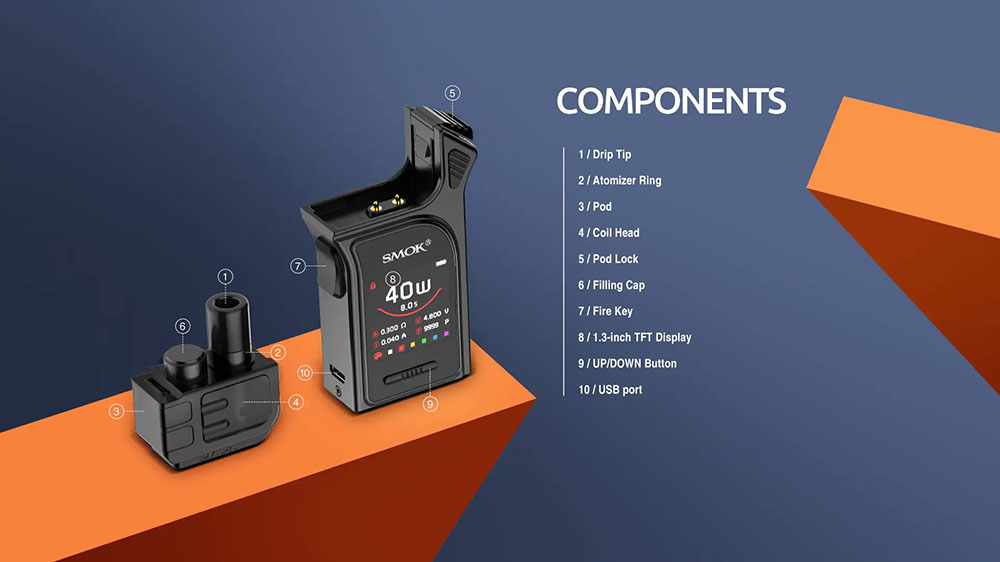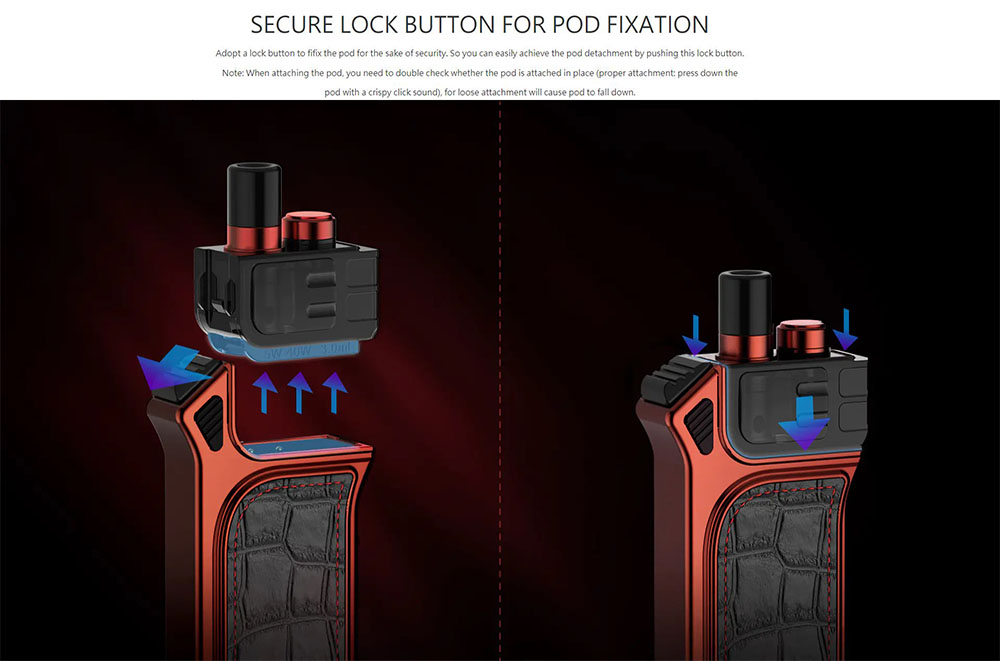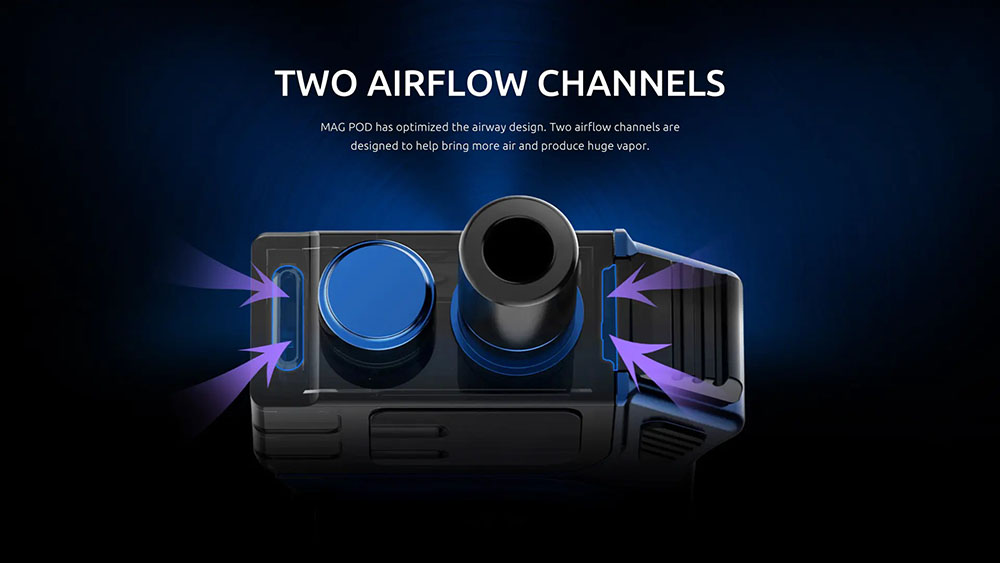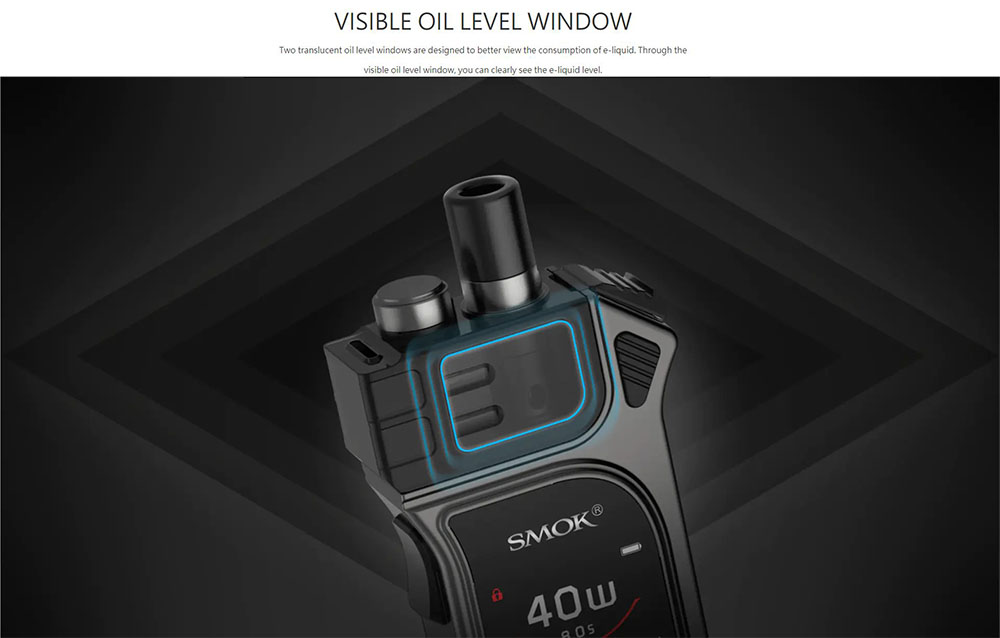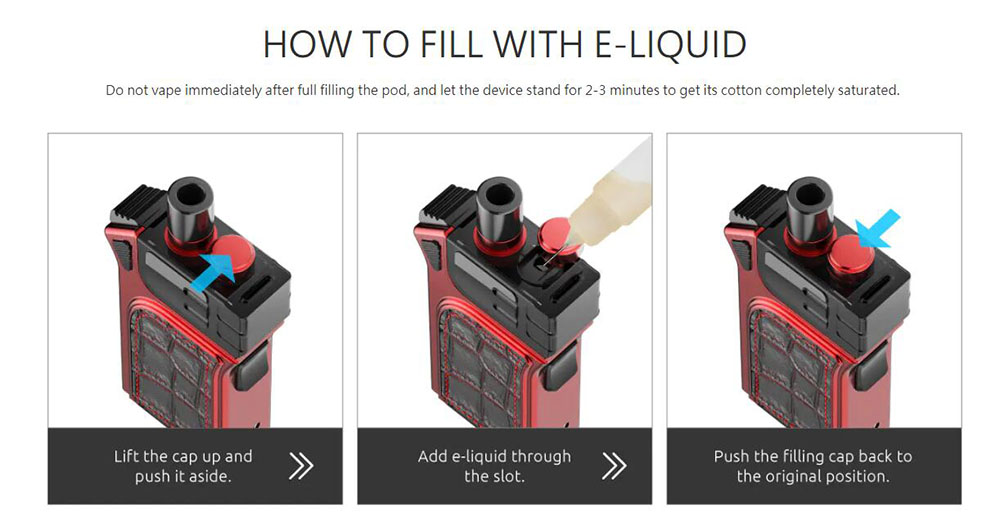 Note: please ensure you have basic knowledge on how to properly use it.
1)If the tanks use sub-ohm coils, vapers must be sure that your device and batteries can handle sub-ohm coils, only recommend experienced users order this, extra safety precautions should be practiced when using a sub-ohm tank. the tank only works with the mod that can support the atomizer and coil. if you have a tank and resistance is 0.3ohm, you must sure that the mod or battery can support resistance low to 0.3ohm. improper use and lead to injury or damage. use the OHMS LAW Calculator to check. if you have a question, please feel free to contact us.
2)users need to pay attention to Li-ion cells when vaping. the batteries very sensitive to charging characteristics and may explode or burn if mishandled. so vapers must have enough knowledge of Li-ion batteries in charging, discharging and assembly before use. please use the fire-proof surface battery charger, never leave a charging battery unattended. we will not responsible for damage to the human reason or mishandling of Li-ion batteries and chargers. the device always recommends work with rechargeable lithium-ion IMR batteries with min output current 20A or higher.
3) Smokstore will not responsible or liable for any injury, damage, defect, permanent or temporary that may be caused by the improper use of Li-ion battery, coils, tanks, mods. please have a basic knowledge of batteries. Welcome to contact us anytime to get help.