IVG 2400 PUFF DISPOSABLE
The IVG 2400 Puff Disposable is a vape device filled with nicotine salt-based e-liquid. There's no need to refill it with e-liquid, charge it, or change any pods or coils. Simply inhale to vape. If you're looking for something more permanent we recommend you try Xros Pod Kit or the Favostix Kit.
IVG is pleased to announce yet another ground-breaking achievement in the e-cigarette industry operating within UK and EU. Protected by issued patents and registered design, IVG presents their customers with the first TPD-compliant 2400 puffs disposable bars, that are crafted for people looking for a better and environmental-friendly substitute for cigarettes.
With due diligence and our customer-centered approach, we have accomplished many milestones in the journey of our brand since its inception. Our e-liquids are rated as the best UK e-liquids and have been awarded thrice in one of the longest-running vape award events, chosen by vapers all over the EU.
Disposable vapes are our forte since we are categorized as the number one brand that people turn to when they are looking for sustainable and high-quality disposable bars. We strictly adhere to best practices and standards when it comes to product quality, safety precautions, and lab testing. We are all aware of the stigma that surrounds disposable vapes, but we believe as long as these bars are helping people quit smoking, they are serving their purpose. And in order to make this journey easier and safe for people, we provide our customers with premium quality disposable bars that combine best industry practices and the highest quality standards.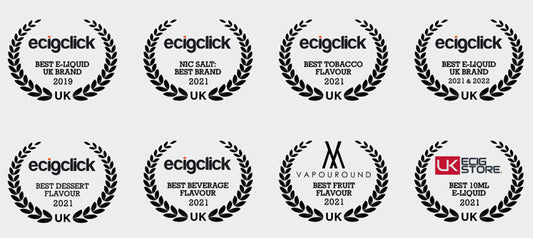 IVG FIZZY CHERRY
Sweet and sour cherries with an added fizzy kick for an exciting, sweet combination.
IVG STRAWBERRY WATERMELON
A summer sensation you won't want to put down, with the sweet taste of watermelon slices paired with handpicked strawberries fresh from the field.
IVG PINEAPPLE ICE
An exciting paired of sweet and tart pineapple with icy menthol. This flavour is juicy and refreshing.
Open the outer cardboard box and remove the contents
Tear the foil packaging and remove the disposable device
Remove and discard of the silicon plug
Activate the vape by drawing on the end of the pod – an LED light will glow on the bottom of the e-cig
The LED light will flash when depleted – at this point, safely dispose of the device
SPECIFICATIONS
Ireland's First TPD "BIG PUFF" Disposable
Disposable 1500mAh
up to 2400puffs
20mg/ml nicotine
IVG are one of the leading brands in vaping and was even voted 'Best UK Brand' of 2019 for their impeccable and delicious e-liquids. Serving over 100 countries worldwide IVG have received over 27 awards from 'Best UK Brand' to 'Best International Brand' in Canada. They continue to impress with their amazing flavours and their newest release is no different, now bringing you the IVG 2400 puff Disposable Pod.
Disposable pod devices are the new big thing. The IVG Bar, by IVG offers a large range of stunning flavours ensuring there is something for everyone. Real, smooth tastes with a solid throat hit; deep satisfaction with consistent taste from the beginning to the very end. Jumping on the bandwagon of constantly improving pod vape technology, IVG Bar has crafted a disposable pod device that is simple to use and eradicates any need to refill, replace coils or even charge!. The IVG Bar is designed for those always on the go but is a great alternative if you've just left your vape at home.
Each IVG Bar device comes pre-filled with 2ml of 20mg nicotine salt e-liquid and comes available in 16 vibrant and refreshing flavours. These IVG 2400 devices are sold singly, however, are offered at a discounted rate when purchased in bulk. Each IVG Bar device has enough e-liquid and battery charge to last roughly 600 puffs, which will of course depend on how long you like to puff for, but is based on meticulous lab testing.
The IVG Bar has a sleek and smooth plastic body and is gorgeously coloured to match your flavour, FDA certified food-grade materials ensure it not only looks stylish and vibrant but feels comfortable in your hand and mouth.
FOR YOUR OWN SAFETY AND SIMILARLY, OTHERS AROUND YOU. PLEASE READ THIS INFO PARTICULARLY CAREFULLY. FURTHERMORE, WHERE THE TERM E-LIQUID REFERS TO A NICOTINE-CONTAINING FLUID AND TAKE ALL NECESSARY CARE. 
Above all, please treat our nicotine e-liquids with extreme care. In addition, ensure that you follow the below safety advice:
Firstly, keep e-liquid/cartridges locked up. Above all, keep out of reach of children and pets at all times.
Seek full medical attention immediately as a result of an accident. In addition, if you feel unwell, and show this warning to your doctor.
Likewise, in the event of swallowing this product, seek medical advice immediately.
Please dispose of these at your local WEE center or areas that accept battery recycling.