Features
Newest version! (2021.06)
Vaporizes herbs, waxes & liquids
Pen-shaped, portable design
Up to 2 hours' battery life
Fast heating power
Full control of temperature adjustment
LED temperature display screen
Who is the Flowermate Aura for?
Specifically designed with maximum convenience and ease of use in mind, the Flowermate Aura vaporizer is the perfect choice for people frequently on-the-go who value portability. Its incredibly easy temperature control makes it ideal for beginners too! Featuring a distinctive pen-like shape for ease of carriage in a bag or pocket, this compact vape is a classic for a reason.
Sleek Design for Better Taste & Safety
Due to its compact streamlined shape, the Flowermate Aura features an innovative heating chamber alongside a fully isolated air path. Allowing all vapor to pass through without encountering any electronics or barriers, the potency and taste of your herbs will be dramatically cleaner and improved. Eliminating the risk of unpleasant odours, gassing or even combustion, the cutting-edge design of this vape ensures premium safety – and great taste at all times!
Discreet & Portable
Measuring-in at just 15 cm long with a pen-shaped structure, the Flowermate Aura is superbly discreet and concealable to carry around. Perfect for slipping inside your pocket or bag when on-the-go, you can enjoy a quality vaping experience even when away from home. Better still, its useful safety power lock ensures it won't accidentally turn on if being knocked around in your bag – the power button requires at least 5 consecutive presses for the device to power-up and begin heating.
Impressive Battery Life
When activated on a fully-charged battery, the Flowermate Aura can provide up to 2 full hours of vaping. Its built-in battery can be conveniently charged via USB, meaning you'll never have to mess around with removing and replacing heavy batteries.
Multi-Functional
Unlike many other alternatives on the market, this vape effortlessly vaporizes dry herbs, waxes and liquids. Giving full power and control over what you choose to vape during your sessions, the interchangeable pods mean its inner heating chamber can easily accommodate virtually anything you wish to transform into vapour.
Fast, Adjustable Temperature
All vapers understand the importance of temperature control, and the Flowermate Aura provides just that. Featuring a convenient LED display providing accurate temperature readings at all times, simply press the corresponding + or – buttons on the vape to adjust the heat to suit your requirements. Better still, the Flowermate Aura is able to fully heat itself within 60 seconds, meaning you'll never be left bored and waiting.
Warranty
All Flowermate units purchased from MagicVaporizers come with a 2-year warranty (6 months for the battery) that is restricted to normal use.
In the Box
Flowermate Aura vaporizer
Mouthpiece
Concentrate capsule
Herb capsule
Packing tool
Cleaning brush
USB charging cable
Stainless steel screens (5)
Instruction manual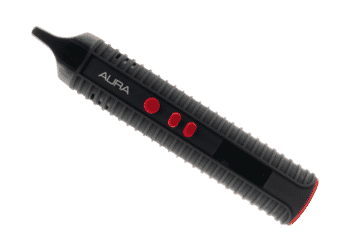 Specifications
More Information

| | |
| --- | --- |
| Size: | 2,8 × 2,8 × 14,7 cm |
| Weight: | 103 g |
| Heating: | Conduction |
| Heat-up time: | 60 seconds |
| Power source: | Battery (2600 mAh) |
| Temperature: | 40°C to 230°C |
| Manufacturer: | Flowermate |
| Warranty: | 2 years |
| Country of manufacture: | China |